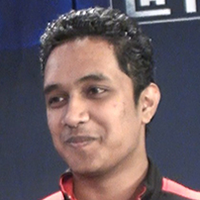 1437
Also known as: Theeban
Sivatheeban Sivanathapillai, Canada
9
Gold in tournaments:
DreamLeague Season 10
Southeast Asia Cyber Arena 2018 Finals
ANGGAME China vs SEA #2. Online Final
WESG 2017 North America
2017 China Top. Dota 2
BTS Americas #3
BTS Americas #2
BountyHunter America Showdown
GIGABYTE Challenge #4
10
Silver in tournaments:
Cobx Masters 2019 Phase II
BTS Spring Cup. Southeast Asia
ProDotA Cup Southeast Asia #13
ProDotA Cup Southeast Asia #12
MDL Macau
The Perfect World Masters Southeast Asia Qualifier
SL i-League Invitational Season 3. Southeast Asia Qualifier
SL i-League Invitational #2
Northern Arena BEAT Invitational
GIGABYTE Challenge #5

Total matches: 499
1437 is a professional Canadian Dota 2 player and coach. Theeban is one of the few American veterans who have also proved themselves as good captains and analysts. Throughout his career he has played for dozens of strong teams. The first one was Nirvana.int, with whom he reached top 8 at TI1. In May 2012, 1437 captained the international team mousesports. Unfortunately, his squad couldn't do anything against Chinese teams at TI2 and ended up with the last place. Having played for Quantic Gaming for a while, Theeban moved to China to join LGD's new project—LGD.int, which consisted of well-known players from all over the world. The squad played in China where they faced the country's strongest teams. Their accomplishments include a victory at Gigabyte E-Sports Challenge and the second place at G-League 2012 Season 2. LGD.int received an invite for TI3. However, they didn't manage to demonstrate a solid performance and finished 9–12th. 1437 returned to Canada and tried to build a squad from crumbling Team Dignitas, but they decided to close down the Dota 2 division. Theeban disappeared from the professional scene for a while but came back with North American Rejects in the spring of 2014. The stack was formed to participate in the TI4 qualifiers. After the victory there the team was signed by the famous Natus Vincere and renamed to Na'Vi.US. Despite joining the well-known organization, the roster ended up with the last place at the tournament. In the 2014–15 season Theeban tried a new role. He became the coach of the renowned Team Secret, where he stayed for almost two years. In the winter of 2015–2016 he captained the American team Digital Chaos for a while but returned to Team Secret in March 2016. 1437 restarted his player career in September 2016 by joining the Canadian Team NP. Theeban interprets his nickname as the number of letters in the phrase "I love you forever."
Participation in teams
Team

Winners Draws Losers
Awards
Place

Tournament

Prize

Prize fund
See also