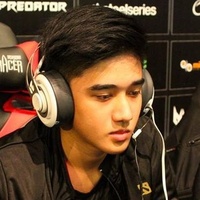 Abed
Abed Aze Yusop, 19 years Philippines
3
Gold in tournaments:
King's Cup 2. Southeast Asia
ASUS ROG SEA Cup
MPGL Southeast Asian Championship
10
Silver in tournaments:
PVP Esports Championship
DOTA Summit 9
DreamLeague Season 9
The Summit 8
The Perfect World Masters North America Qualifier
Betway Arena King of the Hill #2
ROG MASTERS 2016
SEA Kappa Invitational Season 3
ProDotA Cup Southeast Asia #1
joinDOTA League Season 10 Asia
3
Bronze in tournaments:
GESC: Thailand Minor
StarLadder ImbaTV Invitational Season 5
The Mr. Cat Invitational

Total matches: 354
Abed is a young professional Dota 2 player from Philippines. He wasn't familiar to the international community up until February 2016 when he joined Execration. It was his first professional team. Although they had not achieved anything particular yet, Abed and his teammates made it to Wild Card for TI6. However, the squad did not advance to the event itself. In December 2016 Abed left the team and moved to the USA where he joined Team Onyx.
Participation in teams
Team

Winners Draws Losers
Awards
Place

Tournament

Prize

Prize fund
See also