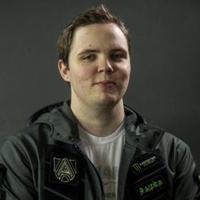 AdmiralBulldog
Also known as: Bulldong, Bulldog, Donger, Dongerino, Dong
Henrik Ahnberg, 29 years Sweden
7
Gold in tournaments:
Aftonbladet Fight Night #4
SL i-League 2015 Dota 2
DreamHack Bucharest 2014
ASUS ROG DreamLeague Season 1
Dota 2 Champions League Season 1
Fragbite Masters 2013
3
Silver in tournaments:
ASUS Play It Cool
JoinDOTA MLG Pro League Season #2
SLTV StarSeries VIII
6
Bronze in tournaments:
Captains Draft 3.0
Moonduck Studios Dota 2 Cup
The Defense 5
Dota 2 Champions League Season 3
XMG Captains Draft Invitational
ASUS ROG DreamLeague Kick-Off Season
Total matches: 414
AdmiralBulldog
Also known as: Bulldong, Bulldog, Donger, Dongerino, Dong
Henrik Ahnberg, 29 years Sweden
AdmiralBulldog is a professional Dota 2 player who won The International 2013 as part of the Alliance In the end of 2011 the word was spread about a legendary Lone Druid player who performed extremely well in pubs. It was an unknown Swede AdmiralBulldog. In the middle of 2012 Henriq played his first professional match, standing in for Na'Vi. He joined No Tidehunter in September 2012 and won DreamHack Winter 2012. His team moved to The Alliance in April 2013 and AdmiralBulldog was there from the triumph at The International 2013 till the decline in 2014. He was the soul and the joker of the team. In November 2014, after the team had failed at DreamLeague Season 2, AdmiralBulldog said that he had been tired of playing for a team without a stable line-up and went inactive. He would stream and rarely stand in. Henriq tried out as carry for Team Tinker in the winter of 2015. In April 2015 AdmiralBulldog came back to the Alliance to participate in TI5 Qualifier. Unfortunately, the team didn't make it out of group. However, soon after that the team acquired s4 and EGM, going back to their TI3 line-up. Henriq signature heroes were buffed in the patch, so he was able to perform. Henriq is one of Europe's most popular players. Thousands of people watch his team. AdmiralBulldog's signature heroes are Lone Druid, Nature's Prophet and Broodmother. These heroes are often banned by his opponents during the first ban phase.
Participation in teams
Team

Winners Draws Losers
Awards
Place

Tournament

Prize

Prize fund
See also