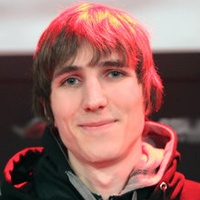 Illidan
Also known as: Airman Ga Taosenai, Illidan Stormrage, IllidanSTR, IS Shirley Finette, Illidan Stormrage SF46, Kamina
Ilya Pivcaev, 28 years Russia
12
Gold in tournaments:
PGL Open Bucharest. Europe Open Qualifier
SL i-League Invitational Season 3. Europe Open Qualifier
ProDotA Cup Europe #22
E-sport-bets Celebration Show-match Dota 2
ASUS Play It Cool
ASUS ROG DreamLeague Season 3
joinDOTA Masters Season 15
Esportal Dota 2 League
Battle of Central Europe 3
GSL QIWI Dota2
YardRed Festival
Game Show Dota 2 League Season One
12
Silver in tournaments:
MegaFon Champions League Season 2
ESL One Hamburg 2017 Europe Qualifier
WellPlay Invitational #3
ProDotA Cup Europe #5
NoShang Invitational
UCC Hitbox Championship
SLTV StarSeries XI LAN Finals
HyperX D2L Season 5
Dota Pit League Season 2
TECHLABS CUP BY 2014
Battle of Four
EIZO Cup #10
6
Bronze in tournaments:
StarLadder ImbaTV Dota 2 Minor
Dota 2 Champions League Season 13
BTS Europe #3
ESL One Frankfurt 2015
Excellent Moscow Cup #2
Excellent Moscow Cup

Total matches: 846
Illidan
Also known as: Airman Ga Taosenai, Illidan Stormrage, IllidanSTR, IS Shirley Finette, Illidan Stormrage SF46, Kamina
Ilya Pivcaev, 28 years Russia
Illidan is a professional Dota 2 player. Ilya has been playing Dota for a long time but became a professional only after joining Virtus.pro in September 2012. He was the one to popularise Lifestealer. After the team failed at TI3 he left them and played for Poseidon for a while but returned to Virtus.pro in November 2013. Unfortunately, Virtus.pro weren't able to prove themselves in that season. Even though they reached the Wild Card of TI4, they lost to Korean MVP Phoenix. Illidan left Virtus.pro again and joined NVMI. Ilya came back to Virtus.pro in September 2014, this time as a member of Virtus.pro Polar, who were later renamed ASUS.Polar. It seemed like Illidan was trying to prove with his play that it had been wrong to fire him. In April 2015 ASUS.Polar merged into Virtus.pro. Team kept improving, and. the "bears" placed 5th-6th at TI5. It was a remarkable achievement, however there was a downfall after the tournament. The Frankfurt Major was a flop, and Ilya was released from his contract in December 2015. Illidan wasn't teamless for long. He tried to qualify for The Shanghai Major with Elements Pro Gaming, and moved to Team Spirit after failing to do so. Illidan plays Carry. His signature heroes are Slark, Medusa and Silencer.
Participation in teams
Team

Winners Draws Losers
Awards
Place

Tournament

Prize

Prize fund
See also