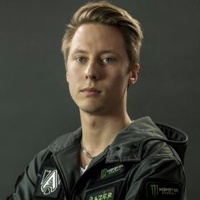 Akke
Joakim Akterhall , 31 years Sweden
8
Gold in tournaments:
ProDotA Cup Europe #15
Aftonbladet Fight Night #4
SL i-League 2015 Dota 2
DreamHack Bucharest 2014
ASUS ROG DreamLeague Season 1
Dota 2 Champions League Season 1
Fragbite Masters 2013
7
Silver in tournaments:
Dota 2 Champions League Season 10
WellPlay Invitational #5
WESG 2016. Europe LAN QUalifier
ASUS Play It Cool
JoinDOTA MLG Pro League Season #2
joinDOTA Masters Season 15
SLTV StarSeries VIII
6
Bronze in tournaments:
Captains Draft 3.0
Moonduck Studios Dota 2 Cup
The Defense 5
Dota 2 Champions League Season 3
XMG Captains Draft Invitational
ASUS ROG DreamLeague Kick-Off Season
Total matches: 556
Akke is one of the experienced Dota 2 Sweden players. Almost since the beginning of his career he had been inseparable with his friend Loda though they had to even play against each other. Before coming to Dota 2 pro scene Akke and his schoolmate Loda made a long way. Together they started their career in Team_Team, played for MYM and during 2007-2008 were members of SK Gaming. In fall 2008 Akke entered a university and temporarily stopped his cybersport career. In 2010-2011 he alongside with Loda achieved results in HoN. In December 2011 Akke came back to Dota 2 when it became a serious cybersport discipline and formed with Loda a new Team – eXperience. In February they signed a contract with CLG. In May Loda left roster and joined Team Zenith. It was the first time when friends were at different sides of the barricades. They tested each other's strength in TI2. CLG yield to Team Zenith both in a match and personal skill and both players were unsatisfied with their results. Akke and Loda realized that they can't reach good results without each other's help and together have joined to the mix No Tidehunter. The start was more than lucky and on November 2012 they won DreamHack 2012 Winter. Soon the roster became entirely Sweden and No Tidehunter was considered as the best team in Europe. In April 2013 the team announced a new organization – The Alliance. Since that – Loda and Akke are permanent players of the team Alliance. Together they took Aegis in TI3 and tasted the frustration of defeats in 2014-2015 when the team was shaking from constant roster changes and mess. Akke is high skilled support. His game style is distinguished with good micro control. According to GosuAwards he is the best support in 2013. His signature heroes are Chen, Enchantress and Keeper of the Light.
Participation in teams
Team

Winners Draws Losers
Awards
Place

Tournament

Prize

Prize fund
See also