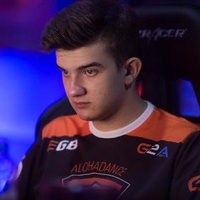 ALOHADANCE
Ilya Korobkin, 22 years Ukraine
9
Gold in tournaments:
The Perfect World Masters CIS Qualifier
ProDotA Cup Europe #16
Dota 2 Champions League Season 10
BTS Europe #2
DreamHack Moscow 2015
Dota 2 Champions League Season 5
JoinDOTA MLG Pro League Season #1
joinDOTA Masters Season 15
SLTV StarSeries XI LAN Finals
12
Silver in tournaments:
Overpower Cup
ProDotA Cup Europe #13
ProDotA Cup Europe #11
Dota 2 Danger Cup
PGL Dota 2 Pro-AM
Dota 2 Champions League Season 6
ASUS ROG DreamLeague Season 4
E-sport-bets Celebration Show-match Dota 2
MarsTV Dota 2 League Spring
Major All Stars Dota 2 Tournament
Esportal Dota 2 League
PD Cup Winter
3
Bronze in tournaments:
DreamLeague Season 7 EU Division
Royal Arena #1
DreamLeague Season 5
Team player
Team Ukraine Yellow
Total matches: 574
AlohaDance is a Ukrainian Dota 2 player. He made a name for himself during his time with Flip.Sid3.ru, whom he had joined in October 2013, winning The National. However, this was more of a semi-professional team. He was invited to replace Vanskor in Empire after the team had failed at The International 2014. Ilya was certainly up for the challenge, and eventually he signed with the team in December 2014. The results were probably even better than the year before, and Empire received a direct invitation to The International 5. Though they yet again collapsed, it was a valuable experience. br> During his first year of being pro AlohaDance made a name for himself as one of the CIS', if not world's best supports. Some people consider him prominent, while other don't. However, you can't deny that he will be remembered at least by fans of Team Empire. Ilya's signature heroes are Rubick, Io and Disruptor.
Participation in teams
Team

Winners Draws Losers
Awards
Place

Tournament

Prize

Prize fund
See also