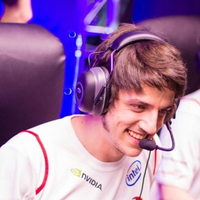 Araneae
Alvar Martin Alenar, 30 years Spain
1
Gold in tournaments:
IEM Season VIII - São Paulo
Total matches: 34
Araneae played League of Legends competitively since 2010, and he has been playing the game since Season 1. He mains jungle. "araneae" is the Latin for "spider". The played used to main Elise when it wasn't popular with professionals. He is famous for his Alistar and Cho'Gath play. Martin is very emotional. He peaked in Season 3, playing for Team Alternate in 2013 EU LCS Summer Split.
Participation in teams
Team

Winners Draws Losers
Awards
Place

Tournament

Prize

Prize fund