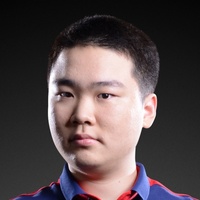 Arrow
No Dong-hyeon, 25 years South Korea
1
Gold in tournaments:
OGN Champions Summer 2014
2
Silver in tournaments:
LCK Summer 2016
Champions Summer 2015
3
Bronze in tournaments:
2017 NA LCS Spring Split
LCK Spring 2016
2015 LoL KeSPA Cup

Total matches: 202
Arrow started his professional career in Xenics Storm, which didn't made it to OGN. The team looked way worse than their opponents, so there was no chance of Xenics Storm getting promoted. Later on the player got lucky to be invited to KT Rolster Arrows, one of the strongest teams in the world. Since February 2014 he has become a much better ADC, which made him a top-tier Korean player. A random fact: Arrow had a haircut with letters K and T "inscribed" on the right of his head to celebrate him qualyfing for Season 5 World Championship.
Participation in teams
Team

Winners Draws Losers
Awards
Place

Tournament

Prize

Prize fund