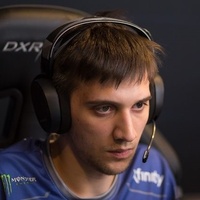 Arteezy
Also known as: RTZ, A-God, Pablo
Artour Babaev, 23 years Canada
26
Gold in tournaments:
DOTA Summit 9
GESC: Indonesia Minor
WESG 2017 North America
DreamLeague Season 8 North America Qualifier
ESL One Hamburg 2017. North America Qualifier
The Manila Masters
Betway Arena King of the Hill #2
Betway Arena King of the Hill #1
2016 China Top. Dota 2
Dota Pit League Season 5
MarsTV Dota 2 League 2016 Autumn
Captains Draft 3.0
The Summit 4
MarsTV Dota 2 League Spring
Red Bull Battle Grounds
ESL One Frankfurt 2015
The Summit 3
SLTV StarSeries X LAN Finals
ASUS ROG DreamLeague Season 2
SLTV StarSeries X America
World E-sport Championships 2014
The Summit
D2L Western Challenge
Monster Energy Invitational
SLTV StarSeries America IX
ESP Shock Therapy Cup
12
Silver in tournaments:
MDL Macau 2019
Galaxy Battles II
EPICENTER: Moscow 2017
Elimination Mode 2.0
SL i-League Season 2. LAN Finals
SL i-League 2015 Dota 2
MarsTV Dota 2 League Winter
Dota Pit League Season 4
MLG World Finals
ESL One New York
ESL One Frankfurt 2014
Netolic Pro League #5 West
14
Bronze in tournaments:
The Chongqing Major
The Kuala Lumpur Major
The International 2018
Midas Mode
PGL Open Bucharest 2017
The Boston Major 2016
The Shanghai Major 2016
The Frankfurt Major 2015
Dota 2 Asia Championships
HyperX D2L Season 5
Dota Pit League Season 2
NVIDIA Game24 DotA 2 Invitational
The International 2014
SLTV StarSeries IX Finals

Team player
Evil Geniuses
Total matches: 639
Arteezy is a professional Dota 2 player. He became famous internationally in 2013. Kaipi was his first professional team. Arteezy managed to realise his full potential with Evil Geniuses, placing third at The International 2014. After the tournament Arteezy joined Team Secret and found success with this team as well. After a rather average showing at The International 2015, the team practically disbanded with Arteezy coming back to Evil Geniuses. He mostly plays core, either mid or carry. His best heroes are Shadow Fiend, Lycan and Templar Assassin. Arteezy is quite a notable personality. He is famous for his harsh remarks on his stream. The player actively communicates with his fans in social networks.
Participation in teams
Team

Winners Draws Losers
Awards
Place

Tournament

Prize

Prize fund
See also