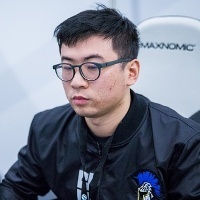 Banana
Also known as: Biubiu, banana.hy
Wang Jiao, China
5
Gold in tournaments:
IeSF 2014 World Championship
World Cyber Arena 2014
The International 2014
Mars TV Dota 2 League
Red Bull ECL 2013 Grand Finals
7
Silver in tournaments:
ECL 2014
WVW - June
Sunt CDEC New Star Cup
V Games Tournament #2
Esports Champions League 2014
G-League 2013
2013 WPC ACE Dota 2 League
3
Bronze in tournaments:
GEST The Challenge June
WPC ACE 2014
Fengyun Championship
Total matches: 302
Banana is a professional Dota 2 player. He won The International 2014 as part of Newbee. Wang started his career with Dota. His first professional team was called xFy, but he became truly famous in Nirvana.cn. He went to The International with them, placing 13th-16th. At that time the player hadn't transitioned to Dota 2 yet, mostly playing DotA. At the end of the year he even left the team to participate in DotA tournaments. He came back at the end of 2012 with For.Love, where he was the captain and the support of the team. In March 2013 he signed with TongFu. They were in good shape, placing 4th at The International. No Chinese team placed higher than that at the event. Banana started 2013-2014 Season in IG, but didn't manage to find the synergy. In March 2013 he accepts xiao8 offer to join the dream team Newbee. It turned to be a correct decision, as first place at TI4 remains Wang's greatest achievement. After xiao8's retirement the team lost its momentum and won only one large event. They wouldn't show up at Valve's events, placing low in the standings. He retired at the end of 2015. Banana's signature heroes are Enchantress and Chen.
Participation in teams
Team

Winners Draws Losers
Awards
Place

Tournament

Prize

Prize fund
See also