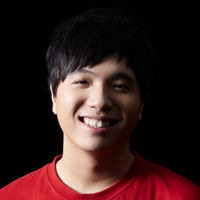 bebe
Also known as: bebeisadog, BeBe
Cheng Bo-Wei, 28 years Taiwan
3
Gold in tournaments:
Garena Premier League 2014 Summer
Garena Premier League 2014 Spring
Garena Premier League 2014 Winter

Team player
Assassin Sniper
Total matches: 139
bebe is a professional League of Legends player, 2012 World Champion as part of Taipei Assassins. He has been competing since 2011. In November 2011 he joined CrossGaming, but left the team in January 2012. In April he joined Taipei Assassins from Taiwan and won Season 2 World Championship with them, winning some other tournaments along the way. After the disastrous World Championship 2014, where his team placed low in the standings, bebe left the team and disappeared from the scene for a year. In March 2015 he returned as part of Assassin Sniper only to move back to Taipei Assassins in November 2015. He plays carry. His signature champions are Tristana and Ezreal.
Participation in teams
Team

Winners Draws Losers
Awards
Place

Tournament

Prize

Prize fund