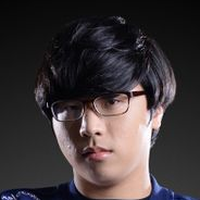 bengi
Also known as: Bakingpowder33
Bae Seong-ung, 26 years South Korea
7
Gold in tournaments:
LCK Spring 2016
2015 Season World Championship
Champions Summer 2015
LCK Spring 2015
ITENJOY NLB Summer 2014
All-Star 2014 Paris
OGN Champions Winter 2013-2014
2
Silver in tournaments:
2015 Mid-Season Invitational
2014 Season Korea Regional Finals
Total matches: 141
Bengi had started to play LoL in competitive level since 2013 at his main role - jungle. He was the first pro gamer who had taken Zac jungle and Popularized the Vi pick with Assassin mid laners. The best achievement he got by winning the 1st place at Season 3 Korea Regional Finals in 2013 playing for SK Telecom T1. Currently he plays junglers. In 2016 Bae repeated his two years old success by taking the title of the world champion. There are only three players who have taken two champion's titles.
Participation in teams
Team

Winners Draws Losers
Awards
Place

Tournament

Prize

Prize fund
See also