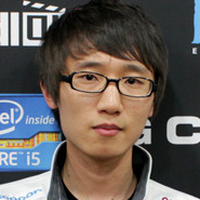 Bomber
Choi Ji Sung, 31 years South Korea
2
Gold in tournaments:
Red Bull Battle Grounds: Washington
WCS 2014 Season 3 America
1
Silver in tournaments:
WCS 2014 Season 2 America
2
Bronze in tournaments:
Lone Star Clash 3
WCS Global Finals
Total matches: 135
Bomber is one of the most internationally recognised professional players of South Korea. He is famous for both his achievements (including 1st place at 2013 WCS Season 2) and the Bomber's law. It states that the player always disappoints his fans, and some success is always followed by another disappointment. The law refers to Bomber's inconsistent performance, as he would beat the favourites and lose to the outsiders. However, has been considered to be irrelevant ever since that WCS victory. One of the reasons the player is popular is his unique playstyle. He loves to play aggressively as well as use cheeses. Being one of the oldest professional players (he was the oldest player at Blizzcon 2013, placing 3rd-4th), he doesn't have fast hands. Inattentiveness and low APM often led to some goofy moments: for example, one day the Terran destroyed his own command centre. In another match, which went bad as well, he nuked his own army. However, Bomber is one the most intelligent players of StarCraft II. Not only he introduced some creative strategies, but he also created a few unorthodox tricks like shooting his own Medivac with a rocket to deliver it in the middle of enemy's soldiers. Bomber is one of the few Korean StarCraft II players go interview in Russia. It was conducted about one week after the conclusion of World Championship Series 2013 Season 2.
Participation in teams
Team

Winners Draws Losers
Awards
Place

Tournament

Prize

Prize fund