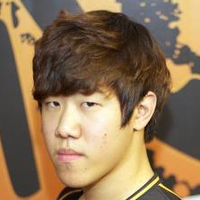 ByuL
Han Ji Won, 27 years South Korea
2
Silver in tournaments:
2015 Global StarCraft II League Season 3
StarLeague Season 3
Total matches: 173
ByuL started his StarCraft: Brood War career as part of White SPARKYZ and, after the merge with CJ Entus, joined Samsung KHAN. He kept playing Brood War even after the release of StarCraft II and had a great 4-1 score at Proleague. On March 19, 2012, shortly before the conclusion of the last StarCraft: Brood War Proleague season, the player decided to switch to StarCraft II and joined fnatic. He spent a few months in the academy, but then was promoted to the main squad. At the end of 2012 he qualified for GSL CodeA for the first time and moved to Incredible Miracle. However, he didn't succeed at GSL, failed to stomp WCG America and returned back to Korea. His team took part in Proleague 2014, and it was the moment when ByuL reached his potential, being on top of the charts for a long time. Even the top-tier were afraid of his macro play. Though he stats eventually got slightly worse and he finished 5th in Player Statistics, he managed to show that ByuL means "star", just like it actually does in the Korean language. ByuL joined Incredible Miracle after CJ Entus had disbanded and won his first match — a short ZvZ — defeating Solar's ( Solar) Pool 10.
Participation in teams
Team

Winners Draws Losers
Awards
Place

Tournament

Prize

Prize fund