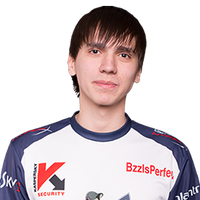 633
Also known as: BZZ, BzzIsPerfect
Stanislav Glushan, 27 years Russia
16
Gold in tournaments:
Taurora Dota 2 Invitational #1
Dota 2 Champions League Season 13
RofloTurik
Overpower Cup
WellPlay Invitational #7
BTS Europe #1
UCC Champions League
Game Show Invitational
Esportal Dota 2 League
MSI Beat IT
Fragbite Masters 2014
Dota2.Ru Cup #2
Gfinity Dota 2 Cup
Battle of Four
Netolic Pro League #5 West
EIZO Cup #10
15
Silver in tournaments:
GG.Bet Birmingham Invitational
Russian Esport championship
SL i-League Invitational Season 3. CIS Open Qualifier
Betway Arena King of the Hill #3
Dota 2 Champions League Season 11
WellPlay Invitational #3
WellPlay Invitational #1
NoShang Invitational
ProDotA Cup Europe #2
Area 51 Dota2 Cup
XMG Captains Draft 2.0
PD Cup Winter
CIS Carnage 2014
Pinnacle DotA 2 Cup
Netolic Pro League #4 West
10
Bronze in tournaments:
StarLadder ImbaTV Dota 2 Minor
I Can't Believe It's Not Summit!
The Perfect World Masters. Open Qualifier CIS
The Final Match 2017
Russian e-Sports Cup 2017. Dota 2
ProDotA Cup Europe 2015
Dota Pit League Season 3
joinDOTA Masters
ASUS ROG DreamLeague Season 2
MLG T.K.O.

Total matches: 914
BzzIsPerfect is a professional Dota 2 player. He played for amateur teams before joining RoX.KIS. He became famous after he placed fourth at ASUS FBOTY 2012 as a part of Wzriv Paketi. He played Carry for RoX.KIS from January 2013 till May 2014, when the team was disbanded. He started Season 2014-2015 as member of Virtus.pro. The core of the team consisted of the former RoX.KIS players. Even though the players had some achievements, they could not live up to people's expectations. In March 2015 the roster was released. BzzIsPerfect had a rough period when he could not find a suitable consistent team. It was only in September when he managed to found Fantastic Five 2015, stable stack noticed by RoX. Stanislav returned to his roots. However, the organization released in March 2016. So they renamed back to Fantastic Five. BzzIsPerfect has been playing Carry throughout his entire career. His signature heroes are Gyrocopter, Lifestealer, and Slark.
Participation in teams
Team

Winners Draws Losers
Awards
Place

Tournament

Prize

Prize fund
See also