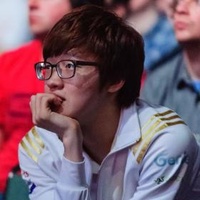 Stats
Also known as: Carno
Kim Dae Yeob, 28 years South Korea
5
Gold in tournaments:
2018 AfreecaTV GSL Super Tournament 1
2017 StarCraft II StarLeague Season 2: Premier
2017 Global StarCraft II League Season 1. Code S
2016 Kung Fu Cup Season 1
Proleague 2014
7
Silver in tournaments:
2018 WCS Global Finals
GSL vs. the World 2018
IEM Season XI — World Championship. StarCraft II
Intel Extreme Masters XI — Gyeonggi
Proleague 2016
2016 StarLeague Season 1
4
Bronze in tournaments:
2017 GSL vs the World
2017 Global StarCraft II League Season 3: Code S
KeSPa Cup 2016
2015 StarCraft II StarLeague Season 1

Total matches: 281
Stats' eSports career began in 2009. In his first year he rarely participated at any tournaments, while his team KT Rolster rarely placed him on any matches. It all changed in 2010, when after a lot of training Stats became one of the best protoss players in the team. He was also one of the best players of new season of Proleague. In 2012 he switched to StarCraft 2 and changed his nickname to Carno.
Participation in teams
Team

Winners Draws Losers
Awards
Place

Tournament

Prize

Prize fund
See also