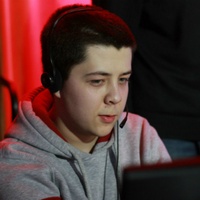 CeMaTheSlayeR
Also known as: CeMaTheSlayeR, Cema, Slayer
Semion Krivulya, 25 years Ukraine
5
Gold in tournaments:
The Perfect World Masters CIS Qualifier
Royal Arena #2
ESL One New York 2015
Mountain Trail Challenge
Yard G2A Fest Ep.1
9
Silver in tournaments:
I Can't Believe It's Not Summit!
Autumn Brawl
WellPlay Invitational #7
FACEIT Invitational
World Cyber Arena 2016 Dota 2 Season 2. Main Qualifier
Global Grand Masters
WePlay Dota2 League Season 3
Captains Draft 3.0
joinDOTA Masters 2015, second tournament
7
Bronze in tournaments:
WePlay! Dota 2 Winter Madness
Rivalry.gg Rumble
StarLadder ImbaTV Invitational Season 5
DreamLeague Season 7 EU Division
ESL One Frankfurt 2016
BTS Europe #1
Esportal Dota 2 League

Total matches: 643
CeMaTheSlayeR is a professional Dota 2 player from Ukraine. He debuted in the spring of 2013 for Aurochs, an amateur CIS mix. For a year and a half Semion had a rough period, where only motivation to keep playing and improve moves one forward. He would often switch teams, sometimes playing at small online tournaments. Most notable teams of that period are DTS2010, Ahead Gaming and Aware. He managed to get into StarLadder StarSeries with BUHLO and the team was noticed by Vega Squadron. They signing took place on November 24, 2014. Semion became the captain of the team. It took Vega time to become a threat, as the players were getting better and CeMa was becoming a more experienced captain. They went to TI5 and lost at the Wild Card stage in a heartbreaking fashion. However, they bounced back in the next season, winning ESL One New York 2015. CeMaTheSlayeR plays support. His best heroes are Dazzle, Skywrath Mage, Witch Doctor and Bane.
Participation in teams
Team

Winners Draws Losers
Awards
Place

Tournament

Prize

Prize fund
See also