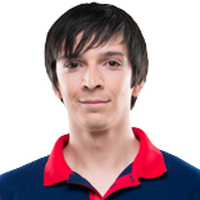 chshrct
Eugene Kastrama, 29 years Belarus
14
Gold in tournaments:
LOOT.BET Winter Masters
MegaFon Champions League #1
MID.TV Challenge Cup
ProDotA Cup Europe #25
ProDotA Cup Europe #24
ProDotA Cup Europe #23
Blood in the Streets #1
WellPlay Invitational #1
NoShang Invitational
Hitbox EU Championship #4
ProDotA Cup
TECHLABS CUP BY 2014
Yard White Festival
PD Cup Winter
12
Silver in tournaments:
OverPower Cup Europe #3
The Perfect World Masters. Open Qualifier CIS
Overpower Cup 2
OMEN Dota 2 Cup
ProDotA Cup Europe #14
Dota 2 Stars Arena
Mountain Trail Challenge
HyperX Trilogy
GIGABYTE Challenge #4
Excellent Moscow Cup
GIGABYTE Challenge #1
Yard Dota 2 Festival
3
Bronze in tournaments:
META'18 (S2)
Rivalry.gg Rumble
joinDOTA League Season 10 Europe

Total matches: 919
chshrct is a semi-professional Dota 2 player. His gaming career dates back to 2006, when he started to play Warcraft III. He took a few breaks, but eventually came back to eSports when Dota 2 entered beta phase. It didn't take him long to become one of the best Dota 2 players in Belarus. chshrct has been playing offlane for Power Rangers since day one. Eugene's signature heroes are Batrider, Nature's Prophet and Dark Seer.
Participation in teams
Team

Winners Draws Losers
Awards
Place

Tournament

Prize

Prize fund
See also