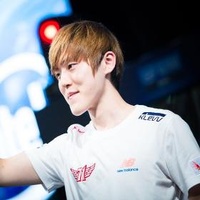 Classic
Also known as: ChinToss
Kim Doh Woo, 28 years South Korea
3
Gold in tournaments:
2018 AfreecaTV GSL Super Tournament 2
2015 StarLeague Season 2
Proleague 2015
2
Silver in tournaments:
IEM Season XII — World Championship
Proleague 2014
5
Bronze in tournaments:
2018 Global StarCraft II League Season 2: Code S
2018 AfreecaTV GSL Super Tournament 1
2017 StarCraft II StarLeague Season 2: Premier
2015 World Championship Series Global Finals
2014 KeSPA Cup
Total matches: 282
Classic is of those unlucky players who debuted against a prime Flash. It happened in 2009 at Proleague, back when Classic was still a Terran StarCraft: Brood War player for eSTRO. The player moved to STX Soul and won Proleague with them, and joined SK Telecom T1 after STX Soul had disbanded. Classic transitioned into StarCraft II with other KeSPA players in 2012 and at first played Terran. However, the player's results declined (though he still made it into the main stage of OSL) and he decided to become a Protoss player. He said that the play style matched that of Terran from SC:BW. No matter whether the statement is true or not, he Classic to get better results. He became a key player for STX Soul and then SKT T1 quite fast, and by the beginning of 2014 he solidified his status of an elite Korean StarCraft player, almost making it into the playoffs of his first GSL CodeS season. It is worth saying that Classic has always loved creative strategies. He won his first professional match using infantry against Protoss (which used to be quite a rare tactic), and in StarCraft II: Heart of the Swam he entertained viewers with the usa of tempests and carriers early in the match. Perhaps, Classic's switch from Terran to Protoss after playing StarCraft II for a while can be considered the least seemless in the history of the game.
Participation in teams
Team

Winners Draws Losers
Awards
Place

Tournament

Prize

Prize fund
See also