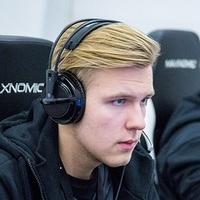 Cr1t-
Andreas Nilsen, 23 years Denmark
15
Gold in tournaments:
DOTA Summit 9
GESC: Indonesia Minor
DreamLeague Season 8 North America Qualifier
ESL One Hamburg 2017. North America Qualifier
The Manila Masters
Betway Arena King of the Hill #2
Betway Arena King of the Hill #1
2016 China Top. Dota 2
Dota Pit League Season 5
MarsTV Dota 2 League 2016 Autumn
ESL One Frankfurt 2016
The Manila Major 2016
DreamLeague Season 5
The Frankfurt Major 2015
ASUS ROG DreamLeague Season 4
6
Silver in tournaments:
MDL Macau 2019
Galaxy Battles II
EPICENTER: Moscow 2017
Elimination Mode 2.0
The Summit 5. LAN Finals
The Defense 5
11
Bronze in tournaments:
The Chongqing Major
The Kuala Lumpur Major
The International 2018
Midas Mode
PGL Open Bucharest 2017
The Boston Major 2016
EPICENTER: Moscow
MarsTV Dota 2 League Winter
Dota 2 Champions League Season 6
MLG World Finals
Netolic Pro League #4 West

Team player
Evil Geniuses
Total matches: 554
Cr1t- is a professional Dota 2 player. People started to consider Andreas to be a young and talented player in 2012. Back then he played for We haz Asian who made themselves a name after placing first at Samsung European Encounter. However, for the next few years Cr1t- struggled to find a consistent team that could achieve good results. He played for a lot of European stacks, including H2k-Gaming, DD. Dota, Lions Pride, Team Life. He played for mousesports and MYM. In August 2015 Cr1t- joined (monkey) Business, who later renamed to OG. This is when he reached his full potential. The team won The Frankfurt Major 2015 and ASUS ROG DreamLeague Season 4. Nilsen is a good Rubick, Jakiro, Bane and Io player.
Participation in teams
Team

Winners Draws Losers
Awards
Place

Tournament

Prize

Prize fund
See also