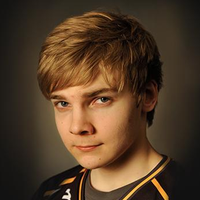 Cyanide
Also known as: CyanideFI, USAISTHEBEST, Ding12, TheValyrian
Lauri Happonen, 25 years Finland
3
Silver in tournaments:
2014 EU LCS Summer Split
IEM Season VIII - World Championship
IEM Season VIII Cologne Pro Tournament
Total matches: 79
Cyanide
Also known as: CyanideFI, USAISTHEBEST, Ding12, TheValyrian
Lauri Happonen, 25 years Finland
Cyanide is a professional League of Legends player. He became a world champion in 2011 as part of Fnatic. He began to play competitively at the age of 15, being one of the youngest players at that time. He debuted for oSk Gaming in January 2011, but soon moved to Fnatic with xPeke. In June 2011 Fnatic won Riot Season 1 Championship. Cyanide stayed at the team for a long time despite a lot of roster changes. He also won IEM Season VI - Global Challenge New York, DreamHack Winter 2012, 2013 EU LCS Spring Split, 2013 EU LCS Summer Split and 2014 EU LCS Spring Split. Cyanide and xPeke left Fnatic in December 2014. xPeke proceeded to create Origen, and Cyanide joined this new team as a sub. He mains Jungle. Lauri is famous for his smite steals. Cyanide was the first player to reveal jungle Gangplank to the world.
Participation in teams
Team

Winners Draws Losers
Awards
Place

Tournament

Prize

Prize fund