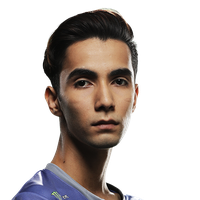 SumaiL
Also known as: D3m0n, B-Rabbit, Slim.Shady, Suma1L
Syed Sumail Hassan, 20 years Pakistan
15
Gold in tournaments:
DOTA Summit 9
GESC: Indonesia Minor
DreamLeague Season 8 North America Qualifier
ESL One Hamburg 2017. North America Qualifier
The Manila Masters
Betway Arena King of the Hill #2
Betway Arena King of the Hill #1
2016 China Top. Dota 2
Dota Pit League Season 5
MarsTV Dota 2 League 2016 Autumn
Captains Draft 3.0
The Summit 4
The International 2015
Dota Pit League Season 3
Dota 2 Asia Championships
10
Silver in tournaments:
Galaxy Battles II
EPICENTER: Moscow 2017
Elimination Mode 2.0
SL i-League 2015 Dota 2
MarsTV Dota 2 League Winter
Dota Pit League Season 4
MLG World Finals
ESL One Frankfurt 2015
The Summit 3
JoinDOTA MLG Pro League Season #1
10
Bronze in tournaments:
The Chongqing Major
The Kuala Lumpur Major
The International 2018
Midas Mode
PGL Open Bucharest 2017
The Boston Major 2016
The International 2016
The Shanghai Major 2016
WePlay Dota2 League Season 3
The Frankfurt Major 2015

Team player
Evil Geniuses
Total matches: 418
Suma1l is a professional Dota 2 player from Pakistan, currently playing for Evil Geniuses. He won The International 2015 with Evil Geniuses. Suma1l had bene playing for relatively unknown NA teams for a really long time until EG manager Charlie Yang noticed him in the winter of 2015. After a long period of training, Suma1l became part of Evil Geniuses when the team parted ways with Zai and Arteezy. He debuted at D2L Season 5. In February 2015 EG took part in Dota 2 Asia Championship, when the analysts and the crowd noticed his amazing performance. EG became the champions of Dota 2 Asia Championship, winning $1,284,158 in prize money. Six months later he became the youngest champion of The International 2015 and the youngest player with more than $1,000,000 in winnings. SumaiL prefers to play core positions. He plays Mid or Carry heroes in official matches. His signature heroes are Storm Spirit, Shadow Fiend, Ember Spirit, Magnus and Windranger.
Participation in teams
Team

Winners Draws Losers
Awards
Place

Tournament

Prize

Prize fund
See also