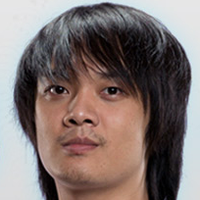 MMY
Also known as: X!!, Dai
Lei Zengrong, 30 years China
12
Gold in tournaments:
Dota 2 Professional League Season 1
G-League 2015
i-league Season 3
i-league Season 2
G-League 2014
Sunt CDEC New Star Cup
V Games Tournament #2
SLTV StarSeries IX Finals
Esports Champions League 2014
SINA Cup Supernova S3
G-League 2013
2013 WPC ACE Dota 2 League
8
Silver in tournaments:
VPGame Pro League
National Electronic Sports Tournament 2014
GEST The Challenge June
The Summit
WPC ACE 2014
Red Bull ECL 2013 Grand Finals
MLG Championship
5
Bronze in tournaments:
SL i-League 2015 Dota 2
The International 2015
ECL Spring 2015
WVW - June
Mars TV Dota 2 League
Total matches: 474
MMY is a professional Dota 2 player from China. MMY gained worldwide recognition by playing DotA AllStars for EHOME. In 2010 the team dominated the Dota scene. After MMY had moved to Dota 2 and participated in TI1, where EHOME placed second, he left the team for a while and joined Nirvana.cn, which disbanded soon though. Lei started playing for the stack Canis Lupus Campestris, however, when the preparations for next The International started, EHOME signed the player once again. MMY switched from Mid to Support, where he revealed his talent. His Io in combination with Tiny was one of the best in the professional scene. After TI2 he joined Team DK, where he stayed till August 2014, having made a short break. Playing for Team DK, he won such large tournaments as WPC ACE Dota 2 League, G-League and StarSeries. However, he didn't manage to get the Aegis of Champions with DK. In August 2014 MMY joined LGD, where he plays currently, being one of the most consistent players. MMY's signature heroes are Rubick, Lion and Io.
Participation in teams
Team

Winners Draws Losers
Awards
Place

Tournament

Prize

Prize fund
See also