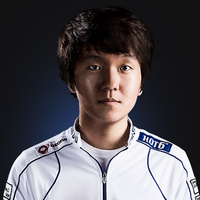 DanDy
Also known as: YaNgSin, Ingoo, KR DanDy, YaNkee
Choi In-kyu, South Korea
1
Gold in tournaments:
2014 Season World Championship
1
Silver in tournaments:
OGN Champions Winter 2013-2014
2
Bronze in tournaments:
OGN Champions Summer 2014
OGN Champions Spring 2014

Total matches: 119
DanDy is a professional League of Legends player. He won 2014 World Championship as part of Samsung Galaxy White. DanDy started his career at the beginning of 2012. First he played support, but at the middle 2012 he switched to Jungle. He said that he was among the best three junglers in the world with inSec and Diamondprox very early in his jungling career. He is famous for his Lee Sin plays, as he would often hit 5 players with one kick. He has played for a lot of famous teams including MVP Ozone, Samsung Galaxy White. He won 2014 World Championship with the latter, which is the biggest achievement of his career. After the tournament they disbanded, moving to different countries. DanDy went to China and joined Vici Gaming.
Participation in teams
Team

Winners Draws Losers
Awards
Place

Tournament

Prize

Prize fund