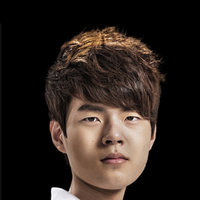 Deft
Also known as: MVP Deft, Zebec poop
Kim Hyuk-kyu, 23 years South Korea
7
Gold in tournaments:
2018 LCK Summer Split
KeSPA Cup 2017
LPL Summer 2016
2015 Mid-Season Invitational
LPL Spring 2015
Demacia Cup Season 2
OGN Champions Spring 2014
3
Silver in tournaments:
LCK Coca-Cola Zero Spring 2017
LPL Spring 2016
OGN Champions Summer 2014
2
Bronze in tournaments:
2018 LCK Spring Split
LCK Summer 2017

Team player
Kingzone DragonX
Total matches: 241
Deft has been a League of Legends pro since 2013. He is the AD Carry for EDward Gaming. Deft also used to played for teams like MVP Blue and Samsung Blue. Most of Kim's achievements come from his run with EDward Gaming, as he won G-League 2014, LPL Spring Playoffs, Demacia Cup Summer Season and some other tournaments. He has been on a roll ever since he moved to China. Deft is known to have a lot of friends from other regions.
Participation in teams
Team

Winners Draws Losers
Awards
Place

Tournament

Prize

Prize fund
See also