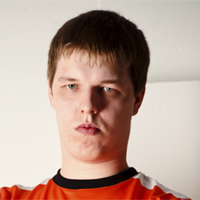 Dellight
Maxim Sinichkin, 30 years Russia
3
Silver in tournaments:
Rumble in the West
EU Gold Series 2014 Season 1
Wargaming.net League Grand Final
2
Bronze in tournaments:
EU Gold Series 2014 Season 5
Go4WoT Finals: December

Total matches: 64
Dellight is a professional World of Tanks player. His most notable team is Virtus.pro. Dellight played for them from 2013 to 2015. Then he took a break and came back in January 2016 with 7Plays. The player won WoT Pro League several times as well as some other major World of Tanks tournaments.
Awards
Place

Tournament

Prize

Prize fund