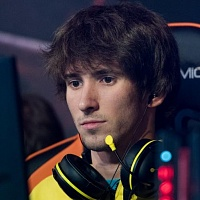 Dendi
Danil Ishutin, 30 years Ukraine
10
Gold in tournaments:
Adrenaline Cyber League 2017
PGL Open Bucharest 2017. CIS Qualifier
SL i-League Invitational Season 3. CIS Qualifier
SL i-League Season 2. LAN Finals
Dota 2 Champions League Season 4
PD Cup Winter
Dota 2 Champions League Season 2
SLTV StarSeries VIII
TECHLABS CUP 2013 Dota 2 GRAND FINAL
ASUS ROG DreamLeague Kick-Off Season
13
Silver in tournaments:
BTS Spring Cup. Southeast Asia
Midas Mode
Aftonbladet Fight Night #4
ESL One Frankfurt 2016
SL i-League Dota 2 Invitational
DreamLeague Season 5
BTS Europe #1
ASUS ROG DreamLeague Season 3
Game Show Dota 2 League Season One
Excellent Moscow Cup #2
Megafon Battle Arena
D2L Western Challenge
XMG Captains Draft Invitational
5
Bronze in tournaments:
GESC: Indonesia Minor
MDL Macau
ESL One Hamburg 2017 CIS Qualifier
MLG Championship
RaidCall EMS One Fall Season

Total matches: 722
Dendi is a professional Dota 2 player from Ukraine, who won The International with Natus Vincere in 2011.. He is one of the most popular and recognised players in the world. He debuted at the end of 2007 for WG. Danil most of 2008 with Kingsurf.int. However, he got his recognition during his run with DTS whom he played from the autumn of 2008 till the end of 2010 for. December 2010 marked the beginning of a new era for Dendi, as he joined Natus Vincere and proceeded to become their trademark player. Ishutin placed first at The International, took second place at The International 2 and The International 3. Dendi is a seven-time Starladder and two-time ESWC champion, not to mention lots of online tournaments. However, then came the spring of 2014. NaVi's results declined due to internal issues, so they placed 7th-8th at The International 4. The International 5 was even worse of Dendi, as the team placed last. Roster changes didn't help, and the squad was disbanded on October 16, 2015. However, Dendi came back to Natus Vincere with SONNeikO, a young support, four days later to mark the beginning of a new era. These are the core players of new Natus Vincere. Dendi is famous for playing Pudge, who is not picked by other professional players. His other signature heroes are Puck, Magnus and Invoker.
Participation in teams
Team

Winners Draws Losers
Awards
Place

Tournament

Prize

Prize fund
See also