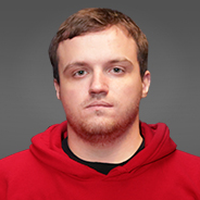 Dread
Also known as: Dreadisback
Andrey Golubev, 28 years Russia
2
Gold in tournaments:
joinDOTA Masters 2015, second tournament
joinDOTA Masters
4
Silver in tournaments:
Battle of Central Europe 3
YardRed Festival
Yard White Festival
CIS Carnage 2014
2
Bronze in tournaments:
GSL QIWI Dota2
PD Cup Winter

Total matches: 355
Andrey first became known in 2008. He has changed a lot of teams since then. Dread participated in The International with Moscow 5. Andrey is one of the most popular and charismatic players of the CIS scene. He is a famous streamer and video blogger. Golubev played Support for most of his career. At the middle of July 2013 he said that he had lost motivation to be a pro and left RoX.KIS. He stated that he would pursue full-time streaming and casting. Fortunately, the motivation returned six months later, so Dread, yoku and ArtStyle joined HellRaisers from Ukraine. Eventually every single player from the first iteration left the team, and young and promising players from Kompas.Gaming joined the team. The line-up of 4 rookies and one experienced players clicked rather fast, and a previously unknown team started to put up a fight against Europe's strongest teams.
Participation in teams
Team

Winners Draws Losers
Awards
Place

Tournament

Prize

Prize fund
See also