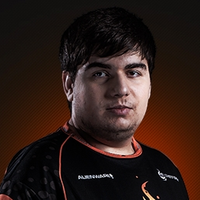 Edward
Also known as: Edward, Immortalrus, GoSu Pepper
Edward Abgaryan, 25 years Armenia
6
Gold in tournaments:
LCL Summer 2018
LCL Open Cup 2018
2018 LCL Spring Split
LCL Summer 2017
IEM Season IX - Cologne
IEM Season VIII Cologne Pro Tournament
2
Silver in tournaments:
LCL Open Cup 2017
LCL Summer 2016
2
Bronze in tournaments:
SL i-League LoL Invitational
IEM Season VIII - World Championship
Total matches: 215
Edward has been playing League of Legends since beta and turned pro in 2011. He mains Support. He is known for his aggressive play style and calls himself "Support Carry", because he sometimes gets more kills than his ADC. He popularised Support Nunu in Season 2. His favourite champion is Thresh, and people praise his Thresh mechanics, calling him The Thresh Prince of Armenia. He played in both EU and NA LCS in Season 3. Edward used to play Warcraft III.
Participation in teams
Team

Winners Draws Losers
Awards
Place

Tournament

Prize

Prize fund
See also