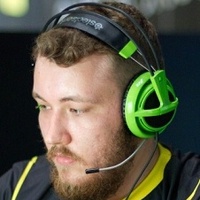 Edward
Also known as: edzie
Ioann Sukhariev, 31 years Ukraine
17
Gold in tournaments:
StarSeries & i-League CS:GO Season 7
BLAST Pro Series — Copenhagen 2018
ESL One Cologne 2018
CS:GO Asia Championships 2018
StarSeries i-League Season 5
DreamHack Winter 2017
WESG 2017 Europe Finals
ESL One New York 2016
Counter Pit League Season 2 - Finals
DreamHack Leipzig 2016
IEM San Jose 2015
ESWC 2015
StarSeries ХIII CS:GO
Global Offensive: Champions League S1
ESL Pro League Winter 2014/15
Game Show CS:GO League Season One
SLTV StarSeries IX
23
Silver in tournaments:
ICE London Challenge 2019
BLAST Pro Series — Lisbon 2018
EPICENTER 2018
FACEIT Major — London 2018
DreamHack Masters Marseille 2018
StarSeries i-League Season 4
Adrenaline Cyber League 2017
Show Match: Virtus.pro vs Natus Vincere
SL i-League CS:GO Invitational
DreamHack Masters Malmö 2016
MLG Major Championship: Columbus
SL i-League 2015 CS:GO
Azubu.tv CS:GO Show-Match
Dreamhack Cluj-Napoca 2015
ESL ESEA Pro League Season 2
Gaming Paradise 2015 CS:GO
DreamHack Summer 2015 CS:GO
CEVO Professional Season 7
SLTV StarSeries XI CS:GO
IronGaming LAN
SLTV StarSeries X CS:GO
DreamHack Summer 2014 CS:GO
SLTV StarSeries VIII
10
Bronze in tournaments:
Intel Extreme Masters Season XIII — Katowice Major 2019
ELEAGUE CS:GO Premier 2018
ESL Pro League Season 7. Finals
ELEAGUE Major 2018
ESL One Cologne 2017
SL i-League StarSeries Season 3
ELEAGUE Season 1
Global Offensive: Champions League S2
Gfinity Masters #2
Fragbite Masters 4 CS:GO

Team player
Natus Vincere
Total matches: 828
Ivan is considered to be the best player in the world. Spending all childhood playing computer games, he had realized that want to dedicate his life to cybersport. Edward started to play competitively Counter-Strike 1.6 for such team as Virtus.pro and Natus Vincere. The ukranian team Natus Vincere was formed in 2009 and looked the most stabile - it's roster never changed until 2013. Edward won the title of the world champion twice according to ESWC and WCG. In November 2012 the whole team moved to CS:GO. In July 2013 the Na'Vi had suffered changes caused by Edward. Together with markeloff he joined the new team Astana Dragons. Dragons first showed good results - Edward had won several tournaments and at TECHLABS Cup 2013 his team took the 2nd place. However in November Ivan had left team and moved to Natus Vincere again. Edward is well-known as the master of pistol rounds.
Participation in teams
Team

Winners Draws Losers
Awards
Place

Tournament

Prize

Prize fund
See also