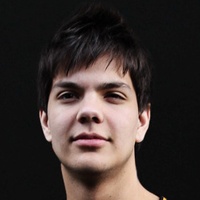 Era
Adrian Kryeziu, 24 years Sweden
9
Gold in tournaments:
joinDOTA League Season 12. Europe
The Final Match 2017
JoinDOTA MLG Pro League Season #2
Area 51 Dota2 Cup
XMG Captains Draft Invitational
MLG T.K.O.
SteelSeries Euro Cup 3
EIZO Cup #9
Netolic Pro League #4 West
8
Silver in tournaments:
Betway Arena King of the Hill #4
ASUS ROG DreamLeague Season 6
Royal Arena #1
Dota 2 Champions League Season 3
ASUS ROG DreamLeague Kick-Off Season
Fragbite Masters 2013
Dota 2 League Season 4
RaidCall EMS One Fall Season
10
Bronze in tournaments:
World Showdown of Esports #1
Alienware Summer's End
ASUS Play It Cool
ASUS ROG DreamLeague Season 3
Major All Stars Dota 2 Tournament
JoinDOTA MLG Pro League Season #1
Battle of Central Europe 3
ESL One Frankfurt 2014
Fragbite Masters 2014
D2L Western Challenge

Team player
The Final Tribe
Total matches: 762
Era is a professional Dota 2 player. Era moved to Dota 2 after having quite a successful HoN career. He was known for his time with Dirty Minds, Lions eSportKlubb, KD-Gaming and Fnatic. The latter decided to transition their squad to Dota 2. Adrian played there for more than two years. The European squad made no roster changes for a long time. However, their play wasn't as consistent as their line-up, though the players would often hit top-3 and were a force to reckon with. Fnatic placed 7th-8th at The International 2013, but at the beginning of 2014 Era started to suffer from panic attacks. He went inactive till The International 2014. Shortly before the tournament in spite of Fnatic's desire to use a stand-in Valve had decided that Era would take part in the tournament. Fnatic placed 13th-14th at the event and disbanded shortly after. In September 2014, joined by his former HoN teammates, Era founded LAJONS. The line-up stabilised two months later, and in January 2015 the promising squad signed with Ninjas in Pyjamas. They were a relevant team in Europe but couldn't become a top-tier team. Failing to qualify for The International 5 and The Frankfurt Major 2015, the players realised that it was time to part ways. Era returned in December 2015 as part of Steak Gaming, syndereN's stack that renamed to No Diggity shortly after. Era has been playing Carry all his career. His signature heroes are Lifestealer, Luna and Tiny.
Participation in teams
Team

Winners Draws Losers
Awards
Place

Tournament

Prize

Prize fund
See also