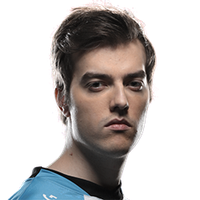 Fata
Also known as: FATA-
Adrian Trinks, 26 years Germany
17
Gold in tournaments:
GG.Bet Dota 2 Invitational
DreamLeague Season 9
Captains Draft 4.0
DreamLeague Season 8
ESL One Hamburg 2017 Europe Qualifier
StarLadder i-League Invitational #3: Europe Qualifier
PGL Open Bucharest 2017. Europe Qualifier
EPICENTER: Moscow
BTS Europe #3
Dota 2 Champions League Season 6
Alienware Summer's End
The Defense 5
NVIDIA Game24 DotA 2 Invitational
GIGABYTE Challenge #5
American Dota League Season 2
Pinnacle DotA 2 Cup
11
Silver in tournaments:
WePlay! Valentine Madness
ESL One Hamburg 2017
ZOTAC Cup Masters
The Manila Major 2016
ESL One Manila 2016
The Shanghai Major 2016
Dota Pit League Season 3
The Summit 2
ASUS ROG DreamLeague Season 2
World Cyber Arena 2014
World E-sport Championships 2014
11
Bronze in tournaments:
WePlay! Dota 2 Winter Madness
Autumn Brawl
GESC: Thailand Minor
SL i-League Invitational Season 3
MarsTV Dota 2 League Spring
SLTV StarSeries X LAN Finals
ESL One New York
Gfinity Dota 2 Cup
SLTV StarSeries VIII
Dota 2 Champions League Season 1

Team player
Ninjas in Pyjamas
Total matches: 701
FATA is a professional Dota 2 player and one of the strongest mid players in Europe. His first steps in competitive scene started in team We haz Asian. The little known team stopped in short step to win qualifiers to WCG 2012. Though real popularity the german player gained playing in german roster of mosesports formed on 21th of November in 2012. The entire season they showed good game and were a real threat to every opponent. FATA was considered as the most dangerous mid player. But Mousesports failed in TI3 taking one of the last places. In next season Adrian could be seen in Sigma.int roster that had a potential but didn't live to see International due roster problems. Though FATA managed to get to TI4 playing in roster of mousesports that before had been Team Dog with Pajkatt as a captain. Again FATA could take only 11-12 place in TI4. 2014-2015 Adrian spent in Cloud 9 – one of the most unusual and original teams. Quite often team took second places in the tournaments but never managed to be a champion. In 28th August 2015 FATA joined team 5Jungz that later signed a contract with the organization Team Liquid on 9th October 2015. Puck is one of favorite FATA's heroes – quite often he played at this hero both in pub games and official matches.
Participation in teams
Team

Winners Draws Losers
Awards
Place

Tournament

Prize

Prize fund
See also