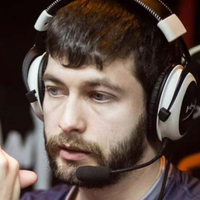 Fear
Also known as: FearDarkness
Clinton Loomis, 31 years USA
17
Gold in tournaments:
GESC: Indonesia Minor
DreamLeague Season 8 North America Qualifier
ESL One Hamburg 2017. North America Qualifier
Captains Draft 3.0
The Summit 4
The International 2015
Dota Pit League Season 3
Dota 2 Asia Championships
SLTV StarSeries X LAN Finals
ASUS ROG DreamLeague Season 2
SLTV StarSeries X America
World E-sport Championships 2014
The Summit
D2L Western Challenge
Monster Energy Invitational
SLTV StarSeries America IX
ESP Shock Therapy Cup
11
Silver in tournaments:
Galaxy Battles II
SL i-League 2015 Dota 2
MarsTV Dota 2 League Winter
Dota Pit League Season 4
MLG World Finals
ESL One Frankfurt 2015
The Summit 3
JoinDOTA MLG Pro League Season #1
ESL One New York
ESL One Frankfurt 2014
Netolic Pro League #5 West
9
Bronze in tournaments:
Midas Mode
PGL Open Bucharest 2017
The International 2016
The Shanghai Major 2016
WePlay Dota2 League Season 3
The Frankfurt Major 2015
HyperX D2L Season 5
Dota Pit League Season 2
NVIDIA Game24 DotA 2 Invitational

Total matches: 506
Fear is a veteran of the North American professional scene, 2015 World Champion (as a member of Evil Geniuses). He became famous back in the DotA Allstars days when he was noted for his performance with mYm and Evil Geniuses. He was in Online Kingdom when the first Dota 2 tournament was announced. The team consisted of players from various countries. They placed 7th-8th at TI1 and disbanded afterwards. October 2011 saw Fear and DeMoN reassemble the team and return to EG. Since then Fear has been their permanent player, going through the ups and downs of the team. For a long time not a single EG roster was able to reach top positions. They placed 9th--12th at TI2 and didn't even win the qualifiers for TI3. Fear decided to take a gamble out of despair. Having practically lost the team by the end of 2013, he entered the S A D B O Y S mix, which conisted mainly of young players, in January 2014. First games showed the necessary synergy to be found and the team was signed by Evil Geniuses on February 21, 2014. But Fear's misfortunes weren't over yet. The elbow injury made him go inactive for some time. The team managed to retain the TI4 invite and the stand-in mason entered the roster. Fear became the team's coach and went to The International, where EG took 3rd place and became the only "non-Chinese" top-4 team. After the tournament mason had to leave - Fear recovered and was ready for new tournaments. 2014-2015 season saw EG moving forward, winning 4 Premium-tournaments. At the beginning of 2015 there was an unexpected reshuffle: Arteezy and zai left and an unknown Pakistani player SumaiL took the place of the former. After winning Dota 2 Asia Championships it was clear that the team only benefited from those changes. TI5 saw EG in great shape and they proved everyone why they are the favourites. Fear finally was able to raise Aegis over his head. After such a triumph Fear could retire but Clinton wouldn't be Clinton if he didn't continue. Even the scandalous Aui_2000 kick didn't change his mind. Arteezy returned to the team and Fear switched from Carry to Support. Even though the team's captain is ppd, few people say that the moral authority figure, the mentor and the core of the team is actually Fear. Despite EG being scandalous, Clinton's name almost never comes up in such cases. Fear can truly be considered a all-around player as he switched many positions over his career. His signature heroes are Sven and Anti-Mage. Since August 2015 he has been a support player.
Participation in teams
Team

Winners Draws Losers
Awards
Place

Tournament

Prize

Prize fund
See also