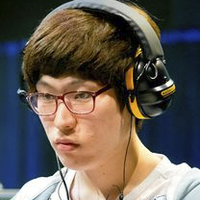 First
Also known as: Anyppi
Kang Hyun Woo, 27 years South Korea
1
Silver in tournaments:
ZOTAC StarCraft 2 Season #1 Final 2014
Total matches: 128
Protoss with quite an original nickname, First started his professional player career in StarCraft: Brood War as part of KT Rolster. He had the name Anyppi and was on the team with Flash, Rich and other stars, but didn't succeed and switched to StarCraft II in January 2012 after joining Incredible Miracle. The 20-year-old needed literally a couple of months to get used to the game and in July 2012 First reached MLG Summer Arena semi-finals and in August - MLG Summer Championship finals. However he showed poorer performance in Korean competitions, never reaching the Korean top - CodeS. 2013 was way more successful for him. First he got into GSL CodeS, then in the play-off, won Intel Extreme Masters Katowice with a record-breaking score of 19-2 and a streak of 17 won sets, got 2nd place at IEM World Championship, entered WCS 2013 Season 2 semi-finals - all of this made First world-famous and brought him over $50,000 of prize money. Nevertheless, at the end of the year First decided to drastically change his surroundings, leave Incredible Miracle, move to Europe and take part in European WCS. He sensationally failed qualifier for the first season of 2014, but in the second one he joined the Premier division of WCS Europe.
Participation in teams
Team

Winners Draws Losers
Awards
Place

Tournament

Prize

Prize fund