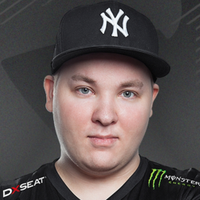 flusha
Robin Rönnquist, 26 years Sweden
30
Gold in tournaments:
WESG 2017 CS:GO
IEM Season XII — World Championship
European Minor Championship 2017 — Atlanta
Intel Extreme Masters Katowice 2016 CS:GO
Aftonbladet Fight Night #3
ESL Expo Barcelona
SL i-League 2015 CS:GO
Fragbite Masters 5 CS:GO
ESL ESEA Pro League Season 2
Fragbite Masters Champions Showdown
FACEIT League 2015 Stage 3
ESL One Cologne 2015
DreamHack Summer 2015 CS:GO
Aftonbladet Fight Night #2
Gfinity Masters #2
ESL ESEA Pro League
DreamHack Tours 2015
King of Majors
FPL Challenge
IOS Pantamera
ESL One Katowice 2015
ESEA Invite Season 17 Global Finals
ESWC 2014
Fragbite Masters 3 CS:GO
FACEIT League 2
Eizo Challenge
SLTV StarSeries X CS:GO
ESPORTSM
E-sport-bets 3rd Anniversary Сup
DreamHack Winter 2013 CS:GO
12
Silver in tournaments:
DreamHack Summer 2017
EPICENTER: Moscow. EU Qualifier
ELEAGUE Season 1
Gfinity Champion of Champions
Fragbite Masters 4 CS:GO
ESEA Season 18 Finals
PGL CS:GO Championship Series
Game Show CS:GO League Season 2
Hitbox Arena Championship 2
ESL One Cologne 2014
Hitbox Arena Championship
MSI Beat it! 2013 Grand Finals
8
Bronze in tournaments:
BLAST Pro Series — Lisbon 2018
DreamHack Masters Marseille 2018
Esports Championship Series Season 4
ESL Pro League Season 6
DreamHack Winter 2016. CS:GO
PGL Season 1
FACEIT League 2015
Gfinity 3
Total matches: 928
Flusha is a professional Counter-Strike: Global Offensive player. Robin played Counter-Strike 1.6 before, where he was a member ofaverage Sweden teams. After moving to CS:GO Flusha played for Western Wolves and Epsilon eSports. Since August 2013 he has been playing for team Fnatic and since November 2013 he is it's captain and in-game leader. Regularly he gets into the top twenty best players of CS:GO according to the website hltv.org.
Participation in teams
Team

Winners Draws Losers
Awards
Place

Tournament

Prize

Prize fund
See also