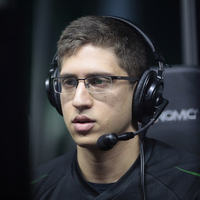 Fly
Also known as: FlyMyShnekel, Simbaaa, SimbaaaCharlie, Bot
Tal Aizik, 26 years Israel
20
Gold in tournaments:
DOTA Summit 9
WESG 2017 North America
MDL Macau
Dota PIT League Season 6: Europe Qualifier
The Kiev Major 2017
Elimination Mode 3.0
The Boston Major 2016
Elimination Mode 2.0
ESL One Frankfurt 2016
The Manila Major 2016
DreamLeague Season 5
The Frankfurt Major 2015
ASUS ROG DreamLeague Season 4
XMG Captains Draft 2.0
Dota Pit League Season 2
XMG Captains Draft Invitational
MLG T.K.O.
SteelSeries Euro Cup 3
EIZO Cup #9
Netolic Pro League #4 West
13
Silver in tournaments:
MDL Macau 2019
StarLadder i-League Invitational #3: Europe Qualifier
Dota 2 Asia Championships 2017
The Summit 6
Dota Pit League Season 5
The Summit 5. LAN Finals
The Defense 5
SLTV StarSeries X LAN Finals
Dota 2 Champions League Season 3
ASUS ROG DreamLeague Kick-Off Season
Fragbite Masters 2013
Dota 2 League Season 4
RaidCall EMS One Fall Season
17
Bronze in tournaments:
The Chongqing Major
The Kuala Lumpur Major
The International 2018
Captains Draft 4.0
The Summit 8
Midas Mode
PGL Open Bucharest 2017. Europe Qualifier
SL i-League StarSeries Season 3
MarsTV Dota 2 League 2016 Autumn
EPICENTER: Moscow
MarsTV Dota 2 League Winter
Dota 2 Champions League Season 6
MLG World Finals
The Summit 2
ESL One Frankfurt 2014
Fragbite Masters 2014
D2L Western Challenge

Team player
Evil Geniuses
Total matches: 790
Fly started his gaming career playing the Heroes of Newereth for team Fnatic. In 2012 he moved together with his team to Dota2. Tal plays support role. After leaving team Fnatic in August 2014 has managed to show up in such european teams as Team Secret and MeePwn'd. In May 2015 joined to the american organization compLexity Gaming and showed good results in the International 2015. Currently plays as support/drafter for team OG that has renamed from Monkey Business. Fly is a champion of the Frankfurt Major 2015. Besides computer games, Tal's hobbies are sport and Krav Maga. His father Moni Aizik is the multiply judo champion in Israel, the master of Krav Maga and the founder of Commando Krav Maga (CKM) also called as "combat survival". Tal shares his father's interests and has done instructor courses.
Participation in teams
Team

Winners Draws Losers
Awards
Place

Tournament

Prize

Prize fund
See also