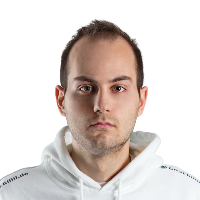 FORG1VEN
Konstantinos Tzortziou, 27 years Greece
2
Gold in tournaments:
European Masters 2018 Spring
IEM VIII Cologne Amateur Tournament
1
Bronze in tournaments:
2016 Season World Championship
Total matches: 145
Forg1ven has been playing League of Legends competitively since 2013. He mains ADC, and his favourite champions are Graves, Lucian and Vayne. He peaked at 2200 Elo in Season 2 and reached Challenger in Season 3. Konstantinos previously played Counter-Strike 1.6 for living and won series of LANs in Greece. He is famous for his fickleness, bad temper and toxic attitude towards SoloQ. He has been punished twice by Riot Games for the latter, which hurt his reputation of a team player. He is still one of the most mechanically gifted players of Europe.
Participation in teams
Team

Winners Draws Losers
Awards
Place

Tournament

Prize

Prize fund