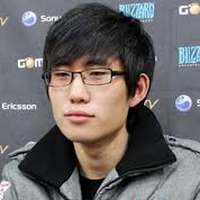 ForGG
Park Ji Soo, 29 years South Korea
1
Gold in tournaments:
2014 DreamHack Open: Winter
3
Bronze in tournaments:
DreamHack Open: Stockholm 2014
WCS 2014 Season 2 Europe
ASUS ROG Winter 2014
Total matches: 114
Ji Soo was one of the very few players who had moved to StarCraft 2 too early but had serious achievements in StarCraft: Brood War. ForGG appeared in his first championship 2008 Arena MSL and from the start showed an amazing game by blanking Flesh in the semi finals, who was considered as a star of StarCraft pro scene and ripped to shreds invincible Jaedong in the finale with a score 3-0. It seemed that after such a powerful start ForGG was destined to be a stat but that was his last success in StarCraft I. Even his next transaction to KT (Flesh's team) didn't help Pak to go on top again. ForGG's sheer fall made him to retire in the end of 2012 but then he returned with StarCarft II release. In 2011 he joined Old Generations and immediately showed his high level of game and became the best player in the team. Though he hadn't enough time to gain popularity in Korea and in summer 2011 he joined the French team Millenium. Since that he had been playing in Europe. Being in a roster of a new team a Korean player was a habitué of all European major tournaments. He took the second place at DreamHack Valencia and ESWC 2012 and also played at semi-finals of Europe WCS and ASUS ROG. Besides ForGG is a Korean player who is actively streaming and everyone can appraise his gaming skills in their own POV's.
Participation in teams
Team

Winners Draws Losers
Awards
Place

Tournament

Prize

Prize fund