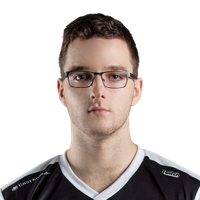 Freeze
Aleš Kněžínek, 25 years Czech Republic
2
Gold in tournaments:
DreamHack Summer 2014 LoL
Copenhagen Games 2014
1
Silver in tournaments:
IEM VIII Cologne Amateur Tournament
3
Bronze in tournaments:
2016 Season World Championship
2016 EU LCS Summer Split
Black Monster Cup EU Fall
Total matches: 169
Freeze is a talented Czech AD Carry. Before his successful League of Legends career he used to play WoW and DotA. For a while he played only Normals but as soon as he started playing Rankeds he reached 2200 Elo in mere two weeks. Unlike many professionals, he has been playing League of Legends only since 2012.
Participation in teams
Team

Winners Draws Losers
Awards
Place

Tournament

Prize

Prize fund