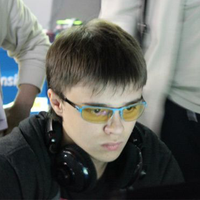 Funn1k
Gleb Lipatnikov, 31 years Ukraine
8
Gold in tournaments:
BTS Europe #2
DreamHack Moscow 2015
JoinDOTA MLG Pro League Season #1
Dota 2 Champions League Season 4
Dota 2 Champions League Season 2
SLTV StarSeries VIII
TECHLABS CUP 2013 Dota 2 GRAND FINAL
ASUS ROG DreamLeague Kick-Off Season
10
Silver in tournaments:
Parimatch friends cup
ProDotA Cup Europe #23
ProDotA Cup Europe #5
ASUS ROG DreamLeague Season 4
ASUS ROG DreamLeague Season 3
Game Show Dota 2 League Season One
Excellent Moscow Cup #2
Megafon Battle Arena
D2L Western Challenge
XMG Captains Draft Invitational
5
Bronze in tournaments:
Dota 2 Summer Cup
OMEN Dota 2 Cup
BTS Europe #3
MLG Championship
RaidCall EMS One Fall Season

Team player
Aachen City Esports
Total matches: 624
For long time Gleb had been known as a good player with a promising potential. In 2010-2012 seasons played for a variety of mixes and the most popular of them was The Retry. In February 2012 the former Na'Vi captain ArtStyle had decided to return to competitive scene after months of inactive and gathered a new team Darer. On 24th of May 2012 Funn1k joined ArtStyle's roster. The team got direct invite to TI2 mostly for ArtStyle popularity then results. On the tournaments Darer couldn't win none of a serious team and took only 9-12 place. Though support Funn1k showed his excellent game at Wisp. After TI2 the team was disbanded and Funn1k together with Goblak joined Team Empire that was looking for new talents. That reshuffle gave a fresh start for the team. Gleb was remembered by public with his play at Clinkz in solo easy lane. Team Empire became the second strongest CIS team after Na'Vi. Then Funn1k changed his role to hard lane and was considered as the best offlane player. He was noticed by more popular Na'Vi and in February 2013 Gleb signed a contract with the ukranian team. At TI3 he became the vice-champion of the world, showing very strong and confident play till the Grand Finals. To spring 2014 Na'Vi showed the signs of stagnation. They couldn't repeat the success of their last performance at TI3 and took only 7-8 place. Funn1k had been criticized but the first one who left the ukranian roster was Puppey. The following roster changes didn't bring much success and after defeat at DAC it had been announced that Funn1k took a break. In April 2015 Gleb came back to his team but after another fiasco at TI5 Na'Vi disbanded the whole roster. In December 2015 Funn1k signed a contract with team Empire. Funn1k is known as very aggressive and strong player. His signature Batrider not once turned over a match. Currently Gleb plays support.
Participation in teams
Team

Winners Draws Losers
Awards
Place

Tournament

Prize

Prize fund
See also