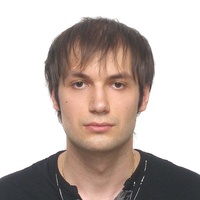 Goblak
Also known as: Goblin
Artur Kostenko, 31 years Ukraine
9
Gold in tournaments:
ProDotA Cup Europe 2015
PGL Dota 2 Pro-AM
Game Show Dota 2 League Season One
Fragbite Masters 2014
Dota2.Ru Cup #2
Gfinity Dota 2 Cup
Battle of Four
Netolic Pro League #5 West
EIZO Cup #10
6
Silver in tournaments:
ProDotA Cup Europe #5
ASUS ROG DreamLeague Season 4
Dota Pit League Season 2
PD Cup Winter
Pinnacle DotA 2 Cup
Netolic Pro League #4 West
4
Bronze in tournaments:
BTS Europe #3
Dota 2 Champions League: Christmas Charity Magic
Excellent Moscow Cup #2
MLG T.K.O.
Total matches: 552
Goblak is a professional Ukranian Dota 2 player. Artur is one of the most experienced players.He played DotA Allstars for Wolker Gaming, DTS, Na'Vi. He left Na'Vi a short time before The International was announced. However, he appeared as a Dota 2 player only in Spring 2012, playing for ArtStyle - Darer. After a failure at TI2 and the team's disband he ended up in Empire in September 2012. For half a year Empire dominated the European scene, second only to Natus Vincere. However in February 2013 Empire's rivals lured over Funn1k. Goblak wasn't able to handle he chaos in the team and left for a European stack DD.Dota, which was soon signed by Quantic Gaming. After getting to Wild Card TI3 the team lost with its infamous "no stuns" draft. By that time Goblak was already famous as an unorthodox drafter not afraid to use unpopular heroes in professional matches. Alas, this wasn't always the right choice. in August 2013 he signed a contract with Virtus.pro, however he didn't blend well with the team and in October he ended up in RoX.KIS. Here Artur proved himself a captain able to handle a youth team. RoX.KIS were not bad in the season but didn't get to TI4, having made a mistake in the key match. Artur's new stack NVMI also showed promise and was shortly signed on by Virtus.pro as a second roster but Goblak unexpectedly moved to Na'Vi who were in need of a captain. However, it was a mistake. Goblak wasn't able to influence the team. His strategies weren't fit for the team's playstyle, so he left in March 2015. After that there was a long string of stacks. Goblak either assembled the stack himself or joined one, but he wasn'tt able to create new NVMI. Only in November 2015 he joined the CIS stack CIS Rejects and led the team to SL i-League StarSeries. After that they got signed by Team Spirit. The guys managed to get to The Shanghai Major 2016, but the rivals left them at 13th-16th places. Goblak can often be seen as an analyst. He is also famous for his sincere interviews and being open about his views on things. He was Na'Vi's coach at TI4. He is a Support player. His signature heroes are Chen, Treant Protector, Bane.
Participation in teams
Team

Winners Draws Losers
Awards
Place

Tournament

Prize

Prize fund
See also