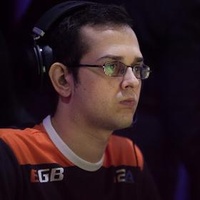 God
Also known as: G, godkillthemall
Sergey Bragin, 28 years Russia
9
Gold in tournaments:
MID.TV Challenge Cup
The Perfect World Masters CIS Qualifier
Royal Arena #2
Dota 2 Champions League: Christmas Charity Magic
E-sport-bets Celebration Show-match Dota 2
ASUS Play It Cool
ASUS ROG DreamLeague Season 3
Esportal Dota 2 League
MSI Beat IT
11
Silver in tournaments:
GG.Bet Birmingham Invitational
СryptØmasters Dota 2
OverPower Cup Europe #3
WellPlay Invitational #7
ProDotA Cup Europe #11
The Summit 4
Area 51 Dota2 Cup
XMG Captains Draft 2.0
TECHLABS CUP BY 2014
Battle of Four
EIZO Cup #10
8
Bronze in tournaments:
StarLadder ImbaTV Dota 2 Minor
DreamLeague Season 7 EU Division
DreamLeague Season 5
ESL One Frankfurt 2015
Dota Pit League Season 3
joinDOTA Masters
ASUS ROG DreamLeague Season 2
Excellent Moscow Cup

Total matches: 858
God is a professional Dota 2 player from Saint-Petersburg. He has been taking part in local tournaments since 2008. He first appeared as a pro player in 2010 playing for The Retry. In March 2011 God joined Moscow 5 which featured the strongest Russian players at the time. As a member of M5 God went to TI1 where he placed 5th-6th. Despite struggles, God stayed at Moscow 5 till February 2012 when he accepted Artstyle's invitation and joined Darer, whose roster was similar to the initial roster of Moscow 5. Unfortunately, the competition at TI2 was too strong, and the guys placed 9th-12th In the autumn of 2013 God moves to China to take part in LGD's project of an international team. Sergey has always been ambiguous about this part of his career. On one hand, he admits that it had been an interesting experience, on the other he says that it was the time when China had few tournaments and they were forbidden to play any other. LGD.int placed 9th-12th at The International 3, and God returned to Russia after the tournament. Sergey joined Virtus.pro for the next season. That year was the worst in his career. Switching positions and rosters didn't help teamwork and the level of playing kept decreasing. The team even managed to take two games off mousesports in the final of TI5 European Qualifier, but failed to qualify for the event. They lost to MVP Phoenix in the Wild Card stage. However, God stayed with the organisation even after the major reshuffle. God also retained his position when ASUS.Polar and Virtus.pro decided to merge their Dota 2 rosters in 2015. God has always been one of the best mid laners in the world. His signature heroes are Queen of Pain, Shadow Fiend and Storm Spirit. Sergey's is also known for his aggressive playstyle.
Participation in teams
Team

Winners Draws Losers
Awards
Place

Tournament

Prize

Prize fund
See also