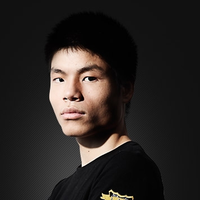 Gogoing
Gao Di-Ping, China
2
Silver in tournaments:
LPL Summer 2014
WCG LoL 2013
3
Bronze in tournaments:
2014 Season World Championship
LPL Spring 2014
Demacia Cup Season 1
Total matches: 103
Gogoing was a professional League of Legends player for OMG since 2012. He was the only returning player from the original line-up in Season 4. He was a Top player and his favourite champion is Rumble. He peaked in Season 3, qualifying with OMG for Season 3 World Championship as China's #2 seed.
Participation in teams
Team

Winners Draws Losers
Awards
Place

Tournament

Prize

Prize fund