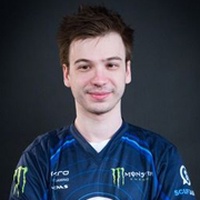 Happy
Vincent Cervoni, 28 years France
24
Gold in tournaments:
DreamHack Open Atlanta 2018
DreamHack Open Atlanta 2018. European Closed Qualifier
DreamHack Atlanta 2017
WESG 2016 CS:GO
Gfinity CS:GO Invitational
Global eSports Cup - Season 1
Dreamhack Cluj-Napoca 2015
The World Championships 2015
Gfinity Champion of Champions
DreamHack Open London 2015
IEM Gamescom 2015
Gfinity Masters #3
E-sport-bets Celebration Show-match CS:GO
Gfinity Masters #1
SLTV StarSeries XII CS:GO
MLG X Games
G2A.com December Cup Powered by FACEIT Europe
DreamHack Winter 2014
SLTV StarSeries XI CS:GO
Hitbox Arena Championship 3
Electronic Sports European Championship 2014
DreamHack Valencia 2014 CS:GO
Winamax Expresso CS:GO Challenge
Fnatic FragOut League: Season 3
13
Silver in tournaments:
LOOT.BET Cup #3
Europe Minor Championship 2018 — Boston
Red Dot Invitational
ESL One Cologne 2015
Aftonbladet Fight Night #2
StarSeries ХIII CS:GO
Counter Pit League Season 1
DreamHack Tours 2015
FPL Challenge
ESWC 2014
DreamHack Stockholm CS:GO Invitational
Fragbite Masters 3 CS:GO
Electronic Sports European Championship
6
Bronze in tournaments:
DreamHack Winter 2017
DreamHack Valencia 2017
Northern Arena 2016 — Montreal
IOS Pantamera
ESL Pro League Winter 2014/15
ESL One Cologne 2014
Total matches: 871
Happy is a professional Counter-Strike player. He was the top French player in the Counter-Strike: Source. In 2012 he started to play in the Counter-Strike: Global Offensive. In the new version he played for different French teams but most of his career he spent in LDLC.com where he gained his popularity. In the beginning 2015 he altogether with his teammates move to Team EnVyUs where he plays to present days and takes the captain's position. Winsen is a winner of two major tournaments – DreamHack Winter 2014 and DreamHack Open Cluj-Napoca 2015. In 2014-2015 Happy was in the world top ten players according to the website hltv.org.
Participation in teams
Team

Winners Draws Losers
Awards
Place

Tournament

Prize

Prize fund
See also