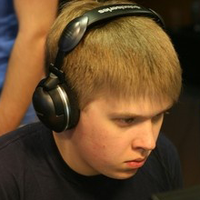 Happy
Dmitry Kostin, 28 years Russia
3
Gold in tournaments:
mTw Legendary Cup
ZOTAC #189
StarCraft 2: HOTS Regular Cup #74
3
Silver in tournaments:
ZOTAC Cup Season 2 Finals
Copenhagen Games Spring 2014
NationWars
Total matches: 170
Happy has been a popular Russian StarCraft player for a long ime. He has a large fanbase both in Russia and overseas. He was one of the best WarCraft III players and now he is one of the top StarCraft II players. Among his achievements are first-place finishes at 2010, 2011 and 2012 WCG Russia and second-place finishes at WCS Russia 2012 and ASUS Spring 2011. He peaked in 2012, placing fourth at Copenhagen Games Spring 2012. He was named the best CIS player and earned himself the nickname Helion Master.
Participation in teams
Team

Winners Draws Losers
Awards
Place

Tournament

Prize

Prize fund