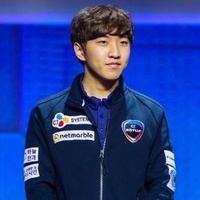 herO
Also known as: herO[jOin], The Smiling Assassin
Kim Joon Ho, 27 years South Korea
6
Gold in tournaments:
2017 AfreecaTV GSL Super Tournament 1
StarLeague Season 3
IEM Season IX - San Jose
SanDisk SHOUTcraft Invitational
IEM Season VIII - São Paulo
IEM Season VIII SC2 - Singapore
4
Silver in tournaments:
2017 AfreecaTV GSL Super Tournament 2
IEM Season XII — Shanghai
Leifeng Cup #158
2014 KeSPA Cup
3
Bronze in tournaments:
Intel Extreme Masters Season XIII — Katowice
2018 AfreecaTV GSL Super Tournament 1
2015 StarLeague Season 2
Total matches: 296
herO[join] shouldn't be mixed up with HerO who plays for team Liquid. Kim differs from the last one with not only of his first lowercase letter but also with his achievements in StarCraft I, II not to mention a gaming style. To begin with, herO[join] played competitively Brood War, though he was playing Zerg in StarCraft I not being a leader or a stable player from core roster of CJ Entus. When StarCraft 2 had been released, Kim started to play protoss and accomplished more impressive results gaining a reputation of the best protoss KeSPA. The progamer played successfully in WCS 2012 by taking the 4th place and that qualified him for the World Championship. In the group's grand finale he lost to Titan, then to Curious and left the tournament. During all 2013 period he was slowly training hard to win a champion title. In last season WCS 2013 he finally secured his position in GSL CodeS and then won two tournaments of Intel Extreme Masters series in a row which was a unique case in history of IEM. Due his winning streak he got an invitation to IEM Worls Championship in Katowice with $100000 prize pool for the first place at the tournament. Unfortunately he was defeated in the finale and stopped in a step to jackpot.
Participation in teams
Team

Winners Draws Losers
Awards
Place

Tournament

Prize

Prize fund
See also