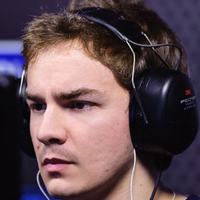 HuK
Chris Loranger, 30 years Canada
1
Gold in tournaments:
SHOUTcraft America Winter
2
Silver in tournaments:
Monday Night Gauntlet
Destiny I
Total matches: 160
HuK is a Canadian StarCraft II player from Saint Petersburg. He had trouble with police, he was also in a juvenile prison. When he was 16, HuK's family moved to Canada and Chris got into eSports. During his first months in StarCraft II HuK won a number of major tournaments and was considered to be one of the world's strongest players. He spent all of 2011 in South Korea, playing at GSL. His best result was entering Top 8. Throughout his career HuK won DreamHack, HomeStory and MLG tournaments. In August 2011 he left Liquid for Evil Geniuses.
Participation in teams
Team

Winners Draws Losers
Awards
Place

Tournament

Prize

Prize fund