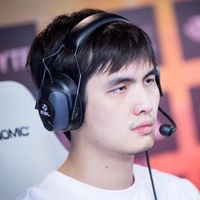 iceiceice
Daryl Koh, 29 years Singapore
21
Gold in tournaments:
King's Cup 2. Southeast Asia
Dota 2 Asia Championships 2018
PGL Open Bucharest 2017
The Perfect World Masters Southeast Asia Qualifier
Dota PIT League Season 6: Southeast Asia Qualifier
SL i-League Invitational Season 3. Southeast Asia Qualifier
PGL Open Bucharest SEA Qualifier
Mr. Cat Invitational Season 2
ProDotA Cup Southeast Asia #3
SLTV StarSeries XII LAN Finals
VPGame Pro League
The Summit 2
ESL One New York
i-league
Sunt CDEC New Star Cup
V Games Tournament #2
SLTV StarSeries IX Finals
Esports Champions League 2014
SINA Cup Supernova S3
G-League 2013
2013 WPC ACE Dota 2 League
15
Silver in tournaments:
PVP Esports Championship
SL i-League Invitational Season 3
Infinite Sky League
ASUS ROG SEA Cup
H-Cup Season 4
Nanyang Championships
i-league Season 3
Dota 2 Champions League Season 5
Dota 2 Asia Championships
Sina Cup 5
GEST The Challenge June
The Summit
WPC ACE 2014
Red Bull ECL 2013 Grand Finals
MLG Championship
5
Bronze in tournaments:
SL i-League Invitational Season 4
Captains Draft 4.0
Dota Pit League Season 5
WVW - June
Mars TV Dota 2 League

Total matches: 750
iceiceice is one of the most successful and popular professional players from Singapore. Daryl began his career in StarCraft II. He took part in BlizzCon 2010 as part of FXOpen e-Sports. He also played DotA for such famous teams as Zenith and KingSurf. He began playing Dota 2 in the summer of 2011. In August iceiceice took part in TI1 as a member of Scythe Gaming and placed third. Then he played for MYM and Team Zenith. As a member of the latter he attended TI2 and placed 5th-6th. In 2013–2014 iceiceice played for Team DK. They quickly became one of the strongest teams in the world but, it wasn't enough to win TI4, where Team DK placed 4th. From August 2014 till March 2016 Koh played for Vici Gaming. Daryl still was regarded as a great player, but he was quite inconsistent too. The team could both hit top-3 at a tournament and finish next to last. They placed second at Dota 2 Asia Championships, finished 4th at TI5 and reached 5th-6th place at The Frankfurt Major 2015. But a failure at The Shanghai Major 2016, where VG placed 13th-16th, was the last straw. iceiceice was the first victim of the reshuffle. On March 8, 2016 he left VG and joined EHOME. iceiceice is believed to be one of the best Asian offlaners. The player is sometimes criticised for his reckless playstyle. iceiceice is the most charismatic Asian player. His interviews are very popular with eSports fans. Daryl also doesn't like to play LAN events in team apparel, preferring casual clothes and slippers or even going barefoot. His favourite heroes are Clockwerk, Dark Seer, Timbersaw and Tidehunter.
Participation in teams
Team

Winners Draws Losers
Awards
Place

Tournament

Prize

Prize fund
See also