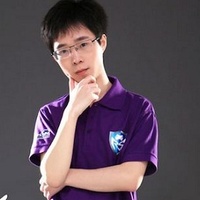 Icy
Wang Peng, 28 years China
4
Silver in tournaments:
Radiant & Dire Cup 2015
ECL Autumn 2015
i-league Season 2
Netolic Pro League #5 East
2
Bronze in tournaments:
Dota2 Professional League Season 5 — Secondary
G-League 2015
Total matches: 346
Icy is a professional Dota 2 player. Wang became known while playing for Rattlesnake. He stayed there from January 2013 till March 2014. The team managed to qualify for The International 3, placing 13th-16th. Since then Icy has been playing for teams that mostly failed to qualify for major events. HyperGloryTeam was only exception. The player joined them in August 2014 and placed 7th-8th at Dota 2 Asia Championships. Wang left the team in March 2015. Finishing the season with Dream Gaming, Icy joined CDEC Youth. He left for FTD Club A in March 2016. Icy played Carry for the most part of his career. Thes days he plays Support. His signature heroes are Rubick, Dazzle and Earthshaker.
Participation in teams
Team

Winners Draws Losers
Awards
Place

Tournament

Prize

Prize fund