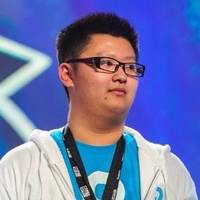 iDream
Kun Fang, 23 years USA
4
Gold in tournaments:
Enter the Storm #2: North America Cup
ESL HotS Championship - Los Angeles
2015 Heroes of the Storm World Championship
HWC 2015 - America Championship
1
Silver in tournaments:
DreamHack All-Stars - Austin 2016
1
Bronze in tournaments:
MSI MGA 2015 Heroes of the Storm
Team player
Denial eSports
Total matches: 27
iDream is an American player of Chinese origin. He has been playing competitively League of Legends since 2011. His main role is top. For all his career in three years he had been playing in vVv Gaming, Team Normal Stars and COGnitive Gaming. In 2014 he moved from LoL to Heroes of the Storm and joined Cloud9 roster. All 2015 season he had played for that organization and did only one transit from Cloud 9 to Cloud 9 Maelstorm that soon would become the main roster of organization. In 2015 Cloud9 Maelstorm became the world champion.
Participation in teams
Team

Winners Draws Losers
Awards
Place

Tournament

Prize

Prize fund